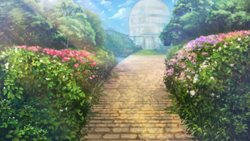 Yumenosaki Private Academy (夢ノ咲学院, Yumenosaki Gakuen, lit. A School where Dreams Bloom) is a performing arts school that overlooks the ocean. The exams to get into Yumenosaki are known to be rigorous, and involve written and performance exams. Courses consist of the idol course, producer course, vocal course, music course, theater course, and regular course. The regular course is the only course that is not performing arts-related.
The idol course behaves as an idol training school while simultaneously allowing students to undertake formal idol work. Idol course students make connections and find work in the entertainment industry, making the idol course somewhat like a huge idol agency. Many students in Yumenosaki intend to continue as idols after graduation, but some may choose to enter different professions.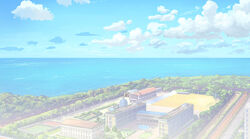 Yumenosaki overlooks the ocean on one side with mountains at its back, located close to nearby cities and towns. Though the school is not meant to be in any real-world location, the artists referenced Kobe City in Hyogo Prefecture when illustrating backgrounds.
Facilities at Yumenosaki include a Dance Room, Tennis Court, Basketball Court, Gym, Archery Ground, Track Ground, Dojo, Pool, Kitchen, Grower Barn, Library, Broadcasting Room, Music Room, AV Room, and Auditorium. Later on, a Nap Room was developed as well for students to rent out when needing to stay late and sleep at school[1].
The idol course and Producer Course are both located in the same building, separate from the other courses. The Player is meant to act as a test run for the Producer Course curriculum in the current year, and thus attends class alongside the students in the idol course. However, Operetta established that the Producer Course opens up to general admission in the following year, and that producer classrooms are separate from idol classrooms.
Locations Gallery
Location
Images
1st Floor Passage
渡り廊下1F


2nd Floor Passage
渡り廊下2F


Animal Pens
飼育小屋


Archery Grounds
弓道場


AV Room
AV室


Auditorium
講堂
Auditorium (Lobby)
ホワイエ
Auditorium (Outside)
講堂前


Basketball Court
バスケットコート


Bicycle Parking Station
駐輪場
Broadcasting Room
放送室


Bulletin Board
掲示板前


Classroom (Generic)
教室


Dance Room
ダンスルーム


Dojo
武道場








Fountain
噴水前


Game Research Club Room
ゲーム研究部部室


Garden Space
ガーデンスペース


Garden Space (East)
ガーデンスペース東


Garden Space (West)
ガーデンスペース西


Garden Terrace
ガーデンテラス


Garden Terrace Kitchen
ガーデンテラスの厨房


Grounds
グラウンド











Grounds (Building Side)



During Sportsfes

Gym
体育館


Gym (Outside)
体育館前


Hallway
廊下


Handicrafts Club Room
Infirmary
Library
図書室


Library (Underground Archive)
地下書庫


Light Music Club Room
軽音部部室


Lockers
昇降口


Marine Life Club Room
海洋生物部部室


Music Room
音楽室


Nap Room
仮眠室


Outdoor Stage
Pool
プール


Full




Empty

Practice Room
練習室
Reference Room
資料室


Rooftop
屋上


School Building (Back)
School Gate (Back)
裏門前


School Gate (Front)
正門前


School Route
通学路
School Store
Secret Room
秘密の部屋


Soundproof Practice Room
防音レッスン室