The Star Medal Shop, released 10/26/18 (15:00 JST), allows for players to obtain old, previously unobtainable cards, new exclusive cards, and an item called the Rainbow Key, which unlocks a node on the Rainbow Road, an upgraded Idol Road that causes rainbow effects to appear on a card. It has been stated that new cards will be added over time, so if an old card you want is not seen here, it may be added eventually. You are able to buy up to 5 copies of each card, allowing you to max them.
The Star Medal Shop can be accessed via the same place as the Diamond and Yumecoin shops. Click on the building on the upper right of the school map, labeled School Store/Shop (購員部/ショップ), and click on the right of the two buttons on the bottom, called the Star Medal Shop (スターメダル ショップ).
Rainbow Road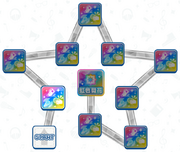 The Rainbow Road requires a total of 10 Rainbow Keys (5000 Star Medals

) and varying large amounts of Jewels in order to max it. It provides varying amounts of stat increases equally to all three attributes. Once maxed, a rainbow border, signature, and stars will appear on the card. For non-5★ cards, the signature is black. This status applies to both the unbloomed and bloomed versions of a card.
Totals for complete Rainbow Road:
5★: 2000 Small Jewels, 800 Medium Jewels, 400 Large Jewels + 2500 stats per attribute
4★: 1500 Small Jewels, 600 Medium Jewels, 300 Large Jewels + 1500 stats per attribute
3★: 1000 Small Jewels, 400 Medium Jewels, 100 Large Jewels + 1000 stats per attribute
2★: 800 Small Jewels, 200 Medium Jewels, 50 Large Jewels + 600 stats per attribute
1★: 500 Small Jewels, 100 Medium Jewels, 30 Large Jewels + 300 stats per attribute
Star Medals (

) can be obtained by playing lessons. When a circle with a dog (Daikichi or Leon) or a bird (Wataru's doves) appears in one of the four locations in the lesson, choosing that location will allow you to obtain a few Star Medals. This often occurs a couple times a lesson. Each circle states how many turns it will last for, so be sure to click on it before it disappears.
Interacting with a Wataru's doves will give you 1-2 Medals, Daikichi will give you 4-6, and Leon will give you 8-12. This amount is doubled during Fever.
Shop Items