These cards can only be scouted from the scout page in Ensemble Stars! mode. However, you can still use these cards in Ensemble Stars!! mode.
Rotating Scouts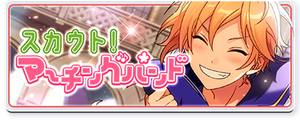 Options

15 Diamonds - One Time
135 Diamonds - Ten Times
3★ guaranteed. (More than 1; 4★ guaranteed for Ten consecutive.)
  Notes

Scouting banners rotate weekly based on units. If a scouting banner features a member of that day's unit as a 5★ or 4★, the banner will appear on that unit's day. All cards associated with that banner are scoutable.

For examples, on RYUSEITAI's day the Hot-blooded Tough Guy scout will appear, as Chiaki is a 4★ in that banner. In addition to the 4★ Chiaki, all cards from the Hot-Blooded Tough Guy banner (the 5★ Kuro, 3★ Tetora, and 3★ Midori) are scoutable from that banner.

The rate of getting a character's card on their birthday is increased by 5x. You are guaranteed at least 5 cards of the character in a 10 scout. See Birthdays.
Every month, 4★ guaranteed for your first Ten Times scout will reset.
If you receive only 3★ cards in a Ten Times scout, a message can appear notifying that the next time will have a 4★ guarantee.