New Pokemon Games - The Loop
Play Sound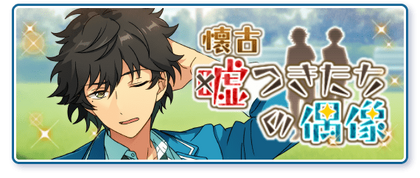 "Out of admiration for his super idol, Jin Sagami, Akiomi joined Yumenosaki Private Academy. Looking after a troublesome Jin, a story about the youthful days when Akiomi chased after his idol with sparkling eyes."
Duration
Start: 4/1/16 at 15:00 JST
End: 4/2/16 at 23:59 JST
Description
Entering the Event Banner will automatically unlock the first story of Liar's Idol
The first button will take you to the rewards list, where you can read each of the stories and claim Jin and Akiomi's cards.

The stories can also be read in Jin's and Akiomi's Sub Stories.
Event
Reward
Requirements

Story:

Liar's Idol - 1

Go to the Event Banner

Story:

Liar's Idol - 2

Finish reading the 1st Story

Story:

Liar's Idol - 3

Finish reading the 2nd Story

Story:

Epilogue - 1

Finish reading the 3rd Story

Story:

Epilogue - 2

Finish reading the 4th Story

Card: (Lying Youth) Jin Sagami
Finish reading the 5th Story

Card: (Innocent Posture) Akiomi Kunugi
Finish reading the 5th Story