Eek! Anzu-san?!
This page is still a WIP! Uhm, maybe you could give me a hand...?
Daily Missions
Tap on the Mission button on the left of the home screen to see the day's missions, and tap on the [前往] button on the right of each mission row to be taken to where you can complete the mission.
In KR Enstars, they reset at 12 AM / 0:00 KST.
Performance
Performance is a weekly currency that you obtain by completing Daily Missions and that only counts for that week. Every day, for every 20 Performance you obtain, you get 10 Diamonds, up to a maximum of 50 Diamonds.
If you obtain certain amounts of Performance during a week, you can obtain rewards. 240 Performance gets you the first box, 480 gets you the second, and 600 gets you the third. The first two give you a random one of any of the Type Pieces or a Live/Support Skill Piece, while the third will give you either a Live/Support Skill Piece or an MV Piece.
There are usually 11 missions given per day, but during events, there is usually an additional mission.
Mission List
Note: Some missions are slightly different between TW (Taiwanese) and KR (Korean) versions. These differences are noted below.
Name
Mission
Reward
Performance
Employee Hiring
社員納新
사원 모집
Scout once.
TW: Medium Growth Ticket x1
KR: 100 L$
10
Employee Hiring 2
社員納新2
사원 모집2
Do one paid Diamond scout.
Whistle x3
30
Employee Training
社員進修
사원 연수
Use 1 ticket.
Small Growth Ticket x1
10
Employee Training 2
社員進修2
상원 연수2
Unlock 1 Idol Road node.
TW: Random Medium Stat Piece x1
KR: Random Stat Piece x1
10
Today's Live
今日live
오늘의LIVE
Play one Shining Live.
TW: Random Small Stat Piece x2
KR: Random Stat Piece x1
10
Today's Greeting
社員關懷
오늘의 인사
Click on an idol once in the Office to exchange greetings with them.
100 L$
10
Idol Work
偶像工作
아이돌 활동
Do 1 Job.
Random Button x1
10
Idol Work 2
偶像工作2
아이돌 활동2
Do 5 Jobs.
Random Thread x1
10
Idol Work 3
運氣不錯
아이돌 활동3
Earn 1000 L$ from Jobs.
100 L$
10
Practice Again and Again
勤奮練習
연습 또 연습
Play 3 Lives.
Random Medium Stat Piece x1
10
Perfect Stage
完美演出
완벽한 무대
TW: Achieve a score of A on a Live.
KR: Achieve a score of S on a Live.
Random Idol Piece x1
20
Special Live Types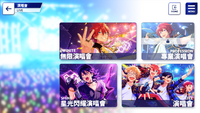 There are three kinds of Lives that only exist on the CN/TW/KR servers: Infinite, Shining, and Professional.
KR Enstars also has special Ensemble Lives.



Infinite
Infinite Lives are unlocked at Rank 6. They do not cost any BP.
An Infinite Live setup consists of songs in an attribute sequence of Sparkle-Brilliant-Glitter-Flash-All. The song of that attribute that you have to play to move to the next song is random, but you can refresh it once per day for free to another random song with that attribute. Doing it any more than once per day will cost 10 Diamonds per use. The score goal does not change depending on the song that is chosen.
Once you have selected to play the song, you'll see the following banner.

Score Goal (本關目標 / 목표 스코어): The score needed in order to pass the level.
Recommended Strength (推薦綜合值 / 추천 종합치): The recommended strength of the unit.
Unit Strength (當前編隊綜合值 / 유닛 종합치): The strength of your unit.
Clear (快速通關 / 클리어): If the unit strength exceeds the number written below, you may choose to automatically clear the stage and get the rewards without having to play the Live.
Clearing the level will get you 30 Exchange Coins
and a Stat Piece box.
Shining
Shining Lives are unlocked at Rank 10.
For every Live you complete, you receive a gift box with either a random amount of Diamonds or Stat Pieces. You cannot use the auto function for these Lives and must clear them manually.
During events, the amount of Shining Lives you can play per day increases from 3 to 4.
Professional
Professional Lives are unlocked when you reach the 50th Infinite Live level.
They function similarly to Infinite Lives, but they are divided into the four attributes (Sparkle, Brilliant, Glitter, and Flash). To play a song, your team must have at least 3 cards of the attribute of that song.
Ensemble (KR)
Ensemble Lives are only available every Friday and Saturday from 19:00-24:00 KST. They can only be done once a day.
There are two missions you and your partner have to complete, but you must find a partner to play with in order to see the other mission. To invite your friends to play, tap the 친구 초대 (Invite Friends) button to see a list of friends you can invite. Click the 초대 (Invite) button beside their name to invite them.
Invites sent to be you will seen through 초대 수락 (Accept Invitations). Once you've accepted them, you'll be able to begin the missions. Note that you can't change your partner afterwards.
The missions usually come in the form of "Do one live with all of [UNIT]'s members". After completing the mission, click the 수령 (Receive) button. You'll be able to see both you and your partner's high scores after you both have completed the missions.
If both you and your partner complete the missions, you'll be able to receive a box of Stat Pieces. Unreceived rewards will be sent to your present box.
Beginner Task Campaign
CN: ? - 2/26/2021
TW: 2/5/2021 - 3/6/2021 (23:59)
KR: ? - 3/24/2021 (23:59)
Community content is available under
CC-BY-SA
unless otherwise noted.