GTA: The Criminal Enterprises - The Loop
Play Sound
Eek! Anzu-chan?!
This page is still a WIP! Uhm, maybe you could give me a hand...?
Title Page
Menu (菜单):
Contact Customer Service (联系客服): This will take you to another page in game which contains the following options:
1 Card-Related (卡片相关)
A scouted card is missing (得到的卡片不见了)
Can't change the CG on Homepage (首页 CG 无法更换)
2 Recharge-Related 充值相关
Account hasn't received a purchase (购买游戏道具后未到账)
Monthly Card Subscription FAQ (月卡相关则介绍)
3 Account-Related 账号相关
About transferring data from Android to Apple (安卓与苹果更换后是否可以同步数据)
About data transfer after changing phones (更换手机后数据是否可以同步)
4 Event-Related 活动相关
Tour Events Rules (巡演活动相关规则介绍)
Unit and Shuffle event rules (组合,洗牌活动相关规则介绍)
5 Live-Related 打歌相关
Unable to play on Shining Live Mode (星光闪耀演唱会无法进行)
Unable to complete missions and tasks on Shining Live Mode during events (活动期间星光闪耀演唱会的任务无法完)

Log Out (登出账号): Logs you out of the account, and allows you to log into a new one. Please remember that iOS to Android device cross-data transfer is not allowed.
Safety Mode (安全模式): Toggles safety mode on.
Log In Bonus Page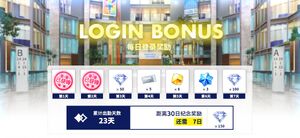 Functions like JPStars Music's Login Bonus page does.
Homepage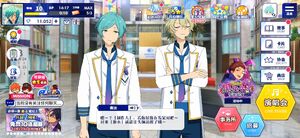 --Beginning from top left and down, followed by rop right and down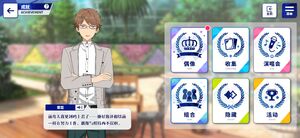 Achievements (成就): Takes you to the achievements page, which contains:
Idol (偶像): Idol-related achievements.
Card Collection (收集): Card collection achievements.
Live (演唱会): Live-related achievements.
Unit (组合): Unit-related achievements.
Hidden Achievements (隐藏): Hidden achievements; will only appear when triggered.
Event (活动): Event-related achievements
Note: Each achievement has a corresponding dia reward
Daily Tasks (任务): Each daily task has a corresponding reward, and each completed task increases the progress bar. There are also dia rewards for passing each threshold on the progress bar.
Chat Room (聊天室): The thin button situated above the banners takes you to the in-game producer chat. The producer chat is divided into the following groups:
Normal Chat (普通聊天): This is where everyone may freely talk about anything.
Idol Support (偶像后援): Divided into chat sub-threads dedicated to specific idols.
Unit Channel (组合频道): Divided into chat sub-threads dedicated to specific units.
Event Discussions (活动讨论): Where everyone are free to discuss about the events. Event Discussions are also divided into chat sub-threads dedicated to specific event campaigns.

Story (故事): Where the main story is located.
Cards (卡片): Where your card collections may be viewed.
Society (协会): Producers may join societies or guilds in CNStars. This is where they may view their society.
Shop (商店): Dia, memorial, and ES coins shop.
Profile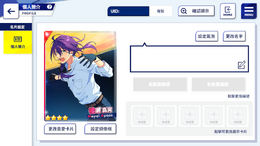 Change Favorite Card (更改喜愛卡片 / 최애 카드 변경) allows you to change the card that is displayed on your profile.
Change Mini Icon (設定頭像框) allows you to change the mini icon that displays on your home screen profile.
Change Name (TW / 이름 변경) allows you to change your username. Clicking on the pencil icon in the speech bubble allows you to change the comment.
Tapping the greyed-out banner spaces for titles will allow you to change which titles display on your profile.
Tapping the squares with a [+] by the bottom of the profile allows you to change which cards you want to display. This functions similarly to the Illustration Sheet in the JP version, except that the profile then displays the mini icons of the chosen cards.

Tap the Cancel (취소) button to cancel. If you want to reset, tap the Reset (초기화) button. To change the layout of the cards, tap Layout (레이아웃). Once you've finished editing it, tap Confirm (확인) to save.

To preview your profile, click the Check Display (표시 확인) button. You can also access your UID here. Click the Copy (복사) button to copy it.
Friends
The friends aspect of the game is accessible through the Friends (친구) button located on the left side of the home screen, third button down.
Friend List
One's Friend List (친구 일람) can contain up to 30 friends.
You can send friendship gifts to your friends 20 times a day by tapping the icon beside their titles. You can also tap the Give and Receive in One Key (원키로 주고받기) button to send those gifts automatically. You can send and receive friendship gifts up to 20 times per day, and for each gift you send, you receive a bonus of L$50.
You can also send your friends gifts through the chat. You can pick a gift from the list and receive up to 3 gifts via chat per day. You can't give duplicate gifts to your friend.
Adding Friends
The Add a Friend (친구 추가) section is where the game recommends you users to friend, and where you can also search for your friend's ID. Click the 추천 친구 (Recommend Friends) button in order to refresh the recommendations. Click 검색 (Search) in order to search for a specific player. In order to friend someone using that method, you must have their UID (which is accessible through the player's profile).
To accept a user's friend request, click the icon beside their badge. To deny all of the incoming friend requests, click the 전부 무시하기 (Disregard All) button.
Main Story
Main Story Progression
Reading each Main Story chapter gives you 30 Diamonds.
When reading the Main Story, there are times when you need to clear a Main Story Live in order to proceed. Clearing these gives you 100 Diamonds, and the next time you play it, missions are available to clear that also give you 100 Diamonds each.
Auto Live
When you achieve a full combo on any song, an option becomes available to run that Live on auto. Playing it via auto once you have a full combo will update your high score and number of times played. You can activate it by selecting a song to play and tapping the Automatic Live (자동LIVE) button.
If you turn auto on on a Live that you haven't full combo-d, it will cost you 10 Diamonds, all the notes will count as Good, and you won't receive Live or mission clear rewards.
Auto Live requires at least 1BP if used on normal lives, 100 event passes if used on the event song, and at least 3BP for tour events. This feature can not be used when playing Story Lives, Infinite Lives, Professional Lives, or Shining Lives.
Live Clear Rewards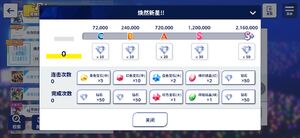 Score Rank Rewards: C: x10 Dias
B: x10 Dias
A: x20 Dias
S: x20 Dias
S+: x50 Dias

Combo Rewards
C: x5 Medium Status Piece (Colour varies per song)
B: x10 Medium Status Piece (Colour varies per song)
A: x2 Large Status Piece (Colour varies per song)
S: x2 Type Piece (Colour varies per song)
S+: x50 Dias

Song Clear Rewards
C: x50 Dias
B: x50 Dias
A: x1 Large Status Piece (Colour varies per song)
S: x1 Type Piece (Colour varies per song)
S+: x50 Dias
Notes
Both:
When viewing your cards, you can tap on the Display Card Names (카드 이름 표시) button on the top right of the card menu to display the names of the cards.
If you want TW/KR lyrics to display while playing Lives, toggle the Display Lyrics (가사 표시) option on in the Live Options area. You can adjust the lyrics in the Lyrics Language (가사 언어) section.
KR:
Every 10 ranks, a gift becomes available in the shop.
Double cards can be used to double the amount of rewards gained during lives. Event points are doubled as well.