Ossu! Be prepared before you enter the dojo!
This guide discusses advanced game mechanics! Make sure you got your basics down first, 'kay?
The Live Challenge is a Music-exclusive mini event. During the event, a new Special difficulty is added to a song already in-game. The player is given five passes at 00:00 JST each day the event is live, allowing them to attempt the featured song, and additional passes may be purchased at the cost of

3 Diamonds each. There is no (known) limit to the number of passes one may have.

Special-difficulty charts often feature mechanics that deviate greatly from normal songs. Whenever such mechanics are present, you can check what they entail for the song by tapping on Chart Information (譜面情報) as shown in the image below.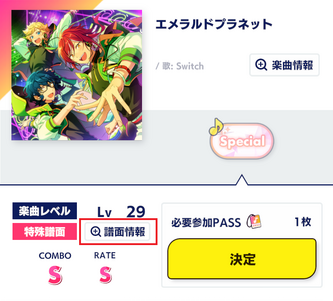 Chart Information (JP)
Translation
Notes


置きスタイル推奨譜面

Recommended to play this chart with your device set on a table
These charts are intended to be played with more than two fingers. Notes may appear in such a way that forces the use of three or more fingers (e.g., consecutive pairs of notes extremely far apart, or three or more simultaneous notes).


上下フリック

Chart includes up- and down-flicks
These up- and down-flicks will often combine with the normal left- and right-flicks, which are still present in this mode. Exercise caution!


超速度変化

Chart includes extreme speed changes
Normal charts will occasionally change the speed at which all notes move, but "extreme" speed changes will include more complex tricks, such as notes appearing instantly, or moving at different speeds at the same time, or the chart appearing to go in reverse.

Some Special charts with fewer or less complex speed gimmicks will still have the "Speed Change" chart type used in normal charts instead of "Extreme Speed Change".

Once the event is over, the Special-difficulty chart is added to the song's difficulty selection on the Music Song List, coming with its own set of clear rewards similar to the other difficulties of the song.

Live Unit Screen
The Live Unit Screen for Live Challenges uses the same Unit Select screen used to create units for MV Mode. This prevents you from making use of any Support Skills that may influence accuracy -- your challenge score will rely entirely on your own rhythm game abilities.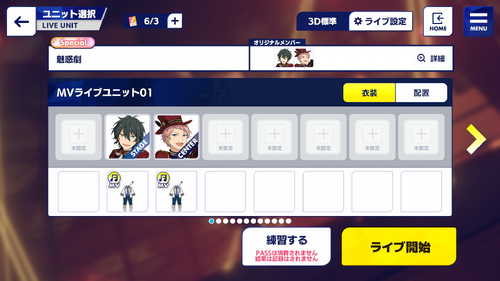 Practice (練習する) - Does not consume tickets. Any high scores set in Practice mode are not official, and will not count for the event leaderboard.
Start Live (ライブ開始) - Consumes one ticket per play. Any scores set in this mode are official, will count for the event leaderboards, and may award titles at the end of the event, or based on several factors (i.e., whether the live was cleared, a certain Challenge Rate was achieved, etc.).
Scoring

Live Challenges are scored using an accuracy-based system, which adds a percentage to your Challenge Rate per note. While combo does not factor into this rate, there are titles which can be earned during Live Challenges for achieving ALL AMAZING!! (100.00%) or a Full Combo.
During Live Challenges, notes can be adjudged as AMAZING, a grade higher than PERFECT; as a result, notes which are only PERFECT will now also display FAST/SLOW feedback if the FAST/SLOW display setting is turned on. The timing windows and associated scoring multipliers for each judgment type are shown below.
| Judgment | Timing window | Multiplier |
| --- | --- | --- |
| AMAZING | ±33ms | ×1.0 (100%) |
| PERFECT | ±50ms | ×0.9 (90%) |
| GREAT | ±85ms | ×0.5 (50%) |
| GOOD | ±120ms | ×0.1 (10%) |
| BAD | ±170ms | ×0 (0%) |
| MISS | - | ×0 (0%) |

The middle and end notes of holds yield half the Challenge Rate of normal and flick notes.
Similar to normal scores, your Challenge Rate also has an associated rank. At 97.5% (S Rank), the associated Live Challenge Professional title will be awarded. Generally speaking, a grade of S or SS is typically necessary to rank within the top 20%. A grade of SSS is usually required to rank within the top 2%, and you will need to come extremely close to an ALL AMAZING!! to rank within the top 0.5%.
Unlike in normal play, it's not necessary to clear the song for an attempt to count towards the leaderboard: even if the song is failed, your score will be submitted as long as a Live Challenge pass is consumed to play the song.
However, some extremely difficult Live Challenges will have lower borders; for instance, Miwaku Geki required a Challenge Rate of only 99.5% to rank within the top 0.5%.
| Rank | Challenge Rate |
| --- | --- |
| C | ≥30.000% |
| B | ≥50.000% |
| BB | ≥60.000% |
| BBB | ≥70.000% |
| A | ≥80.000% |
| AA | ≥90.000% |
| AAA | ≥95.000% |
| S | ≥97.500% |
| SS | ≥99.000% |
| SSS | ≥99.500% |
There are no Live Challenges being held at this time.