"While the third years are absent, it comes to be that Trickstar is to take care of the first years. In their joint practices, they can't get a grasp on the right amount of closeness with each other, and things become strained...x"
Duration
▪ Start: 6/30/18 at 15:00 JST
▪ End: 7/10/18 at 22:00 JST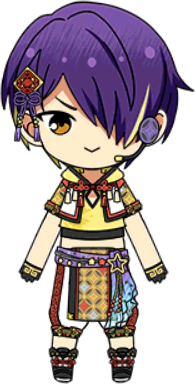 How to Play
▪ As you complete 'Lives', event points (

) will be awarded.
▪ To collect the bonuses, click on the yellow button that appears beside the cleared objective. It will then be sent to your Gift Box (

) that can be accessed on My Room.
▪ Once the event has ended, you'll have 1 week to accept the rest of your rewards.
▪ Event Stories can be read again under the Event tab in Story.
▪ Here are some tips on how to increase Fever quickly and trigger Normal/Special Events.
▪ Triggering any type of 'Live' depends on your RNG luck.
▪ Read more at Event Guide / Revival Event Guide.
Food Items
  ▪ Due to the addition of Revival Events, items now last till after the 3 day revival period is over.
Konpeito


1 Konpeito recovers one LP
Sports Drink


1 Sports Drink recovers full LP
Yakisoba Bread


1 Yakisoba bread recovers full AP
Honey Pickled Lemons


1 Recovers full LP
Bento


1 Recovers full AP
Ame-chan


1 Recovers one LP
Honey Pickled Lemons, Bento and Ame-chan can be obtained as a Dream Festival Special Tournament reward, as well as certain campaign rewards. More at items.
Other Item(s)

Live Cyalume
Effect: Makes the rate of event live appearances to be 100% in a produce course. However does not affect the ratio of certain lives appearing.


How to obtain: Purchasing Diamond packs, rewarded one every first day of the second half of events.
Event
Community content is available under
CC-BY-SA
unless otherwise noted.