Fire Emblem Warriors: Three Hopes - The Loop
Play Sound
We need your help, hero!
This page is a stub. Please help our community by expanding it! ☆
Missing: Performances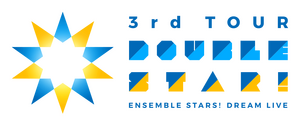 DREAM LIVE 3rd Tour "Double Star!" is a live virtual concert where characters are projected on a screen where they perform. The vocals are pre-recorded, but a live band is present to play the songs. These projections are shown at a designated venue for an audience. The event is produced by BANDAI NAMCO Live.
The units Trickstar, RYUSEITAI, Switch, Knights, AKATSUKI, UNDEAD, and 2wink performed at the event.
Performances
| Date | Opening Time | Location  |
| --- | --- | --- |
| | | |
Cast
Idol Comments
"
I will devote everything I have towards a memorable live for everyone.
"
"
We'll have you revel in the spirit of Akatsuki to your heart's content.
"
"
We shall stand atop the stage before your eyes once again, little misses.
"
"
And may us brave Knights' figures reach our princess' side...!
"
"
The pair of us twins will hype everyone up, just watch~!
"
"
Sorry that we kept you all waiting! The heroes are here to save the day!
"

"
Ossu! I'll give it my all and make this a fun live!
"

"
i'm excited to "puka puka" with everyone~♪
"

"
Please support us during the tour period. I'll do my best...
"

"
Feast your eyes upon our song and dance, as they say...♪
"
Setlist
Tenka Muteki☆Meteoranger! (天下無敵☆メテオレンジャー! lit. The Unrivaled☆Meteorangers!

?

) - RYUSEITAI
Ryuusei Hanabi (流星花火 lit. Meteor Fireworks

?

) - RYUSEITAI
Emerald Planet (エメラルドプラネット) - Switch
Knockin' Fantasy - Switch
Temptation Magic - Switch
Fight for Judge - Knights
Article of Faith - Knights
Usubeniiro no Yakusoku (

薄紅色の約束

lit. Pale Red Promise

?

) - Akatsuki
Zan -Ketsui no Yaiba- (

斬 ー決意ノ刃ー

lit. Slash -Blade of Resolve-

?

) - Akatsuki
HEART→BEATER!!!! - Trickstar
CHERRY HAPPY STREAM - Trickstar
SUPER NOVA REVOLU5TAR - RYUSEITAI
Unlimited☆Power!!!!! (アンリミテッド☆パワー!!!!!) - RYUSEITAI
Galaxy Destiny - Switch
BREAKTHROUGH! - Trickstar
Hana Akari no Koibumi (

花燈の恋文

lit. Love Letter of the Brilliance of Cherry Blossoms

?

) - Akatsuki
Hyakka Ryouran, Akatsukiyo (

百花繚乱、紅月夜

lit. Wild Blooming Flowers, Crimson Colored Moon's Night

?

) - Akatsuki
Silent Oath - Knights
Grateful Allegiance - Knights
Encore
Rebellion Star - Trickstar
ONLY YOUR STARS! - Trickstar
Tenka Muteki☆Meteoranger! (天下無敵☆メテオレンジャー! lit. The Unrivaled☆Meteorangers!

?

) - RYUSEITAI
Ryuusei Hanabi (流星花火 lit. Meteor Fireworks

?

) - RYUSEITAI
Emerald Planet (エメラルドプラネット) - Switch
Knockin' Fantasy - Switch
Temptation Magic - Switch
Gate of the Abyss - UNDEAD
Valentine Eve's Nightmare - UNDEAD
Play "Tag" - 2wink
HEART→BEATER!!!! - Trickstar
CHERRY HAPPY STREAM - Trickstar
SUPER NOVA REVOLU5TAR - RYUSEITAI
Unlimited☆Power!!!!! (アンリミテッド☆パワー!!!!!) - RYUSEITAI
Galaxy Destiny - Switch
Heart Prism·Symmetry (ハートプリズム·シンメトリー) - 2wink
Kangei☆2wink Zatsugidan (

歓迎☆トゥ・ウィンク雑技団

lit. Greetings☆2wink Performers

?

) - 2wink
BREAKTHROUGH! - Trickstar
TRICK with TREAT!! - 2wink with UNDEAD
DESTRUCTION ROAD - UNDEAD
Melody in the Dark - UNDEAD
Encore
Rebellion Star - Trickstar
ONLY YOUR STARS! - Trickstar
Merchandise
For more information, see:

DREAM LIVE -3rd Tour "Double Star!"-/Merchandise
Gallery