UNDEAD
アンデッド
A Wild Hunt in the Dead of Night

A wild unit led by Rei Sakuma. When it comes to fan-service each member delights with their individual style.
Their ability to be highly flexible gives them plenty of publicity as the MCs of variety shows, radio personalities, in commercials, and even as fashion models. Work that utilizes their character and visual style is their main focus. Their theme color is purple (#64368F).[1]

UNDEAD is affiliated with Rhythm Link. See also: their stories.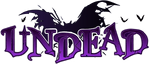 Trending pages
All items (5)