Trickstar
トリックスター
The southern cross sparkling in the night sky!

A fairly orthodox idol unit led by Hokuto Hidaka. Their fanservice is both dazzling and comfortably personal with their audience.
Trickstar overflows with a calming energy and genuine character, so their work in media focuses on appearing in variety shows, hosting official events, acting as radio personalities, and being the face of advertising campaigns in commercials. Their theme color is orange (#FF8B0B).

Trickstar is affiliated with Star Maker Production. See also: their stories.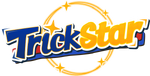 Trending pages
All items (4)