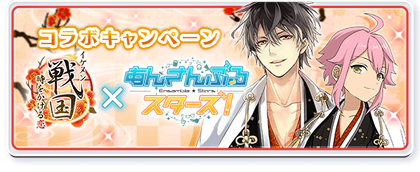 Duration
Start: 10/27/2015 at 16:00 JST
End: 11/10/2015 at 16:00 JST


Collaboration with a game called "Ikemen Sengoku" in which players are awarded for progressing in their respective game! Players are awarded items for clearing the specified requirements and can accept them on the special event's page.
Additionally, the event included a Twitter campaign regarding retweets (Tweet in question found here), where reaching retweet goals awarded every player regardless of participation with these rewards:
3,000 retweets, 1,000 Producer Points.
5,000 retweets, two Story Keys.
10,000 retweets, five people to receive an autographed illustration of Tori Himemiya.
The rewards for the retweet section of the event have been handed out to each player on 11/13/2015.
Content
Gallery
Trending pages
All items (1)