MaM
マム
Bringing heart-pounding thrills to you!

A unit where Madara Mikejima works solo.

He mainly focuses on campaign jobs such as commercials, variety talk shows, food reviews, sports variety shows, live broadcasts, and other hosting and active jobs. His theme color is grey (#5A6964).

MaM is affiliated with New Dimension. See also: his stories.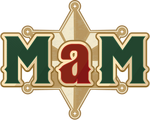 CG
Leader of Festivals
Leader of Festivals
Lone First-Magnitude Star
Lone First-Magnitude Star
Green-Eyed Executioner
Green-Eyed Executioner
NewDi's Banquet
Hidden Legend
Hidden Legend
Place of Thundrous Festivities
Place of Thundrous Festivities
The Rock I've Decided to Play
The Rock I've Decided to Play
Of Love, Duty and Secrets
Of Love, Duty and Secrets
Divine Plan
(CN-Exclusive)
Divine Plan
(CN-Exclusive)
Scout CG
Mini Icon (Basic)
Mini Icon (Music)
Rainbow Bloomed
Rainbow Mini Icon
Scout
An Idol
An Idol
ES Idol
ES Idol
Practicing
Practicing
Practicing Together
Practicing Together
Spy's Task
Spy's Task
A Later Follow Up
A Later Follow Up
A Word of Advice
A Word of Advice
Lone First-Magnitude Star
Lone First-Magnitude Star
NewDi's Banquet
NewDi's Banquet
The Rock I've Decided to Play
The Rock I've Decided to Play
Leader of Festivals
Leader of Festivals
Place of Thundrous Festivities
Place of Thundrous Festivities
Event
Other
Dialogue Renders
Main Outfits
Private Outfits
Private Mods I Outfit
Private Mods II Outfit
Private Mods III Outfit
Private Mods IV Outfit
Private Performer I Outfit
Private Performer II Outfit
Private Performer III Outfit
Private Performer IV Outfit
Private Mascot I Outfit
Private Mascot II Outfit
Private Mascot III Outfit
Private Mascot IV Outfit
Private Suit I Outfit
Private Suit II Outfit
Private Suit III Outfit
Private Suit IV Outfit
Private Illusionist I Outfit
Private Illusionist II Outfit
Private Illusionist III Outfit
Private Illusionist IV Outfit
Private Prince I Outfit
Private Prince II Outfit
Private Prince III Outfit
Private Prince IV Outfit
Limited Outfits
Lawson Promotion Outfit
CoCoICHI Outfit
MegRhythm Pajama Outfit
Tower Records Manager Outfit
Halloween Bat Outfit
Love Liner Outfit
White New Year Outfit
Docomo Ambassador Suit Outfit
Daikoku-yu Outfit
Manten Style Outfit
JOYSOUND Style Outfit
5th Anniversary (New Dimension) Outfit
6th Anniversary Outfit
Event Outfits
Birthday Flowers
CG
Before the Festival
Before the Festival
Rampant Benkei
Rampant Benkei
Violin of the Setting Sun
Mama and Dolphin
Mama and Dolphin
Flower of Encouragement
Flower of Encouragement
First Tricks of the Monkey
Head of the Black Ships
Head of the Black Ships
Mission Partner
Star Passing on Its Wish
Star Passing on Its Wish
Ten-Ball
Happiness and Harmony
(CN-Exclusive)
Scout CG
Mini Icon
Rainbow Bloomed
Rainbow Mini Icon
Scout
Madara Mikejima
Madara Mikejima
Academy Idol
Academy Idol
Sudden Encounter
Sudden Encounter
Mama Captain
Mama Captain
Return and Departure
Return and Departure
Adventurous Model
Adventurous Model
Mama Santa
Mama Santa
Blooming World
Blooming World
Alluring Chest
Alluring Chest
Before the Festival
Before the Festival
First Tricks of the Monkey
First Tricks of the Monkey
3rd Anniversary
3rd Anniversary
Mission Partner
Mission Partner
Your Mark of Ambition
Your Mark of Ambition
4th Anniversary
4th Anniversary
Violin of the Setting Sun
Violin of the Setting Sun
Ten-Ball
Ten-Ball
Event
Ferry Knight
Ferry Knight
Flower Assistant
Flower Assistant
Halloween Mummy
Halloween Mummy
Dyed Color
Dyed Color
Museum Stroll
Museum Stroll
Festival Diner
Festival Diner
Hall's Mediator
Hall's Mediator
Mama and Dolphin
Mama and Dolphin
Star Passing on Its Wish
Star Passing on Its Wish
Rampant Benkei
Rampant Benkei
Flower of Encouragement
Flower of Encouragement
Head of the Black Ships
Head of the Black Ships
MaM's Smiling Mark
MaM's Smiling Mark
Other
Dialogue Renders
Student Uniform (Winter)
Student Uniform (Winter) Live2D
Student Uniform (Summer)
Academy Idol
MaM Uniform
PE (Winter)
PE (Summer)
Track Field Uniform
Halloween Practice
1st Year Appearance (Summer)
2nd Year Appearance (Summer)
Student Uniform (Winter, 2nd Year)
Meteor Impact (Silhouette)
Wisteria Festival
Shinsengumi
Rainbow Stage
Student Uniform (Winter + Scarf)
5★
Rampant Benkei
Rampant Benkei
Violin of the Setting Sun
Violin of the Setting Sun
Flower of Encouragement
Flower of Encouragement
Head of the Black Ships
Head of the Black Ships
Ten-Ball
Ten-Ball
Happiness and Harmony
(CN-Exclusive)
Happiness and Harmony
(CN-Exclusive)
MaM's Smiling Mark
MaM's Smiling Mark
4★
Before the Festival
Before the Festival
Mama and Dolphin
Mama and Dolphin
First Tricks of the Monkey
First Tricks of the Monkey
3rd Anniversary
3rd Anniversary
Mission Partner
Mission Partner
Your Mark of Ambition
Your Mark of Ambition
Star Passing on Its Wish
Star Passing on Its Wish
4th Anniversary
4th Anniversary
3★
Sudden Encounter
Sudden Encounter
Mama Captain
Mama Captain
Return and Departure
Return and Departure
Adventurous Model
Adventurous Model
Ferry Knight
Ferry Knight
Flower Assistant
Flower Assistant
Halloween Mummy
Halloween Mummy
Mama Santa
Mama Santa
Blooming World
Blooming World
Alluring Chest
Alluring Chest
Dyed Color
Dyed Color
Museum Stroll
Museum Stroll
Festival Diner
Festival Diner
Words and Music
Words and Music
Hall's Mediator
Hall's Mediator
1★ & 2★
Anime
Manga
Stage Plays
Bkubstars
CNstars
Dream Live
Main Outfits
Outfits
Outfit
Image
MaM Uniform
MaM Practice
Double Face Uniform
Double Face Practice
ES Idol Uniform
Casual

Spring-Summer

Autumn-Winter
Event Outfits
Event Outfits
Outfit
Image
Succession Match
Birthday
New Year
Antique Legend
Secret Service
Fusion Unit
Gacha Outfits
Gacha Outfits
Outfit
Image
Spy
Anniversary

5th

6th

Festival Music
Main Outfits
Outfits
Outfit
Image
Student Uniform

Winter

Cards

:

Madara Mikejima

Madara Mikejima

Sudden Encounter

Sudden Encounter

Mama Captain

Mama Captain

Return and Departure

Return and Departure

Museum Stroll

Museum Stroll

Words and Music

Words and Music

Hall's Mediator

Hall's Mediator

Ten-Ball

Rampant Benkei

Flower of Encouragement

Happiness and Harmony (CN-Exclusive)

Summer