Eden
エデン
An eternal paradise that tempts the heart

When Adam and Eve combine, they become Eden, a noble unit that brims with life led by Nagisa Ran. As a group, they're known for how flashy they are; their performances are dramatic, and their fanservice can unify their audience through only their words.
When doing work in media, they focus on jobs that utilizes their dazzling looks as a group, which includes being guests on talk programs, acting as commercial campaign personae, working as fashion models, and starring in both movies and theater plays. Their theme color is black (#5F5B5D).

Eden is affiliated with Cosmic Production. Eden is one of the top three units in the industry along with Knights and fine. See also: their stories.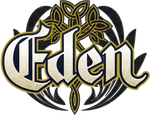 Trending pages
All items (4)