Double Face
ダブルフェイス

A mysterious, underground idol unit led by Madara Mikejima.
Madara Mikejima and Kohaku Oukawa continue to do activities with their original units, MaM and Crazy:B respectively, but they've begun doing activities as a two-person unit as well.
Their media work primarily focuses on modeling for magazines, and appearing in commercials, dramas, and theatre. Their theme color is dark teal (#2B4F54).

They are affiliated with New Dimension. See also: their stories and website.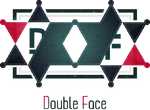 MEMBERS

Madara Mikejima
Kohaku Oukawa


MEMBER INTRODUCTIONS

Madara: World Player, Always on the Go

I'm Mikejima Madara from Double Face! ☆

I'm gonna start working in a unit with Oukawa Kohaku-san from Cosmic Production. I've been working solo up 'til this point, so everything's gonna work differently for me, but it's great to try new challenge! I'm sure it'll be a fun experience.

Kohaku: The Captivating, Dazzling Cherry Blossom

I'm Kohaku Oukawa from Double Face.
Ne'er reckoned I'd be in the same unit as Madara-han...
...Well, 's gonna be a mere temporary alliance, anyway, an' ya don't know what the future holds unless ya give it a shot. I'll do my best t'meet everyone's expectations for now, while he an' I've got the same goals. ♪
Trending pages
All items (2)