AKATSUKI
紅月
Steady, Graceful Beauty Illuminated by Moonlight

A Japanese-style unit led by Keito Hasumi. They are reserved in their fanservice in an effort to maintain an air of gravity.

AKATSUKI does work in media pertaining to news commentary, dramas, movies, and as radio show personalities. Their primary focus is more traditional, cultural work. Their theme color is red (#962828).

AKATSUKI is affiliated with Rhythm Link. See also: their stories.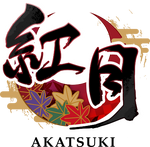 Trending pages
All items (3)