2wink
トゥウィンク
Together as one happy melody ☆

A twin technopop unit led by Hinata Aoi. They're a mischievous unit known for their bright and flashy fanservice.
They excel in playing by ear and adapting flexibly to any situation, so their media work focuses on capitalizing on their experience portraying such lively and vibrant personalities, such as playing children's TV show and variety show personalities, acting as live commentators, and hosting events. Their theme color is neon (#FF3B9A).

2wink is affiliated with Cosmic Production. See also: their stories.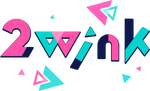 Trending pages
All items (2)