Duration
Start: 2/7/19 at 12:00 JST
End: 2/15/19 at 23:59 JST
Chocolates Stop Dropping: 2/14/19 at 23:59 JST
Happy Chocolaterie
"Make chocolate and show the appreciation you feel every day to the idols!
Gather Choco Points by playing lessons and use them to decorate the chocolates as you wish!
Depending on the amount of decorations you put on, you can make "Handmade Chocolate" or "Deluxe Chocolate".

  Depending on the kinds of chocolate you give, you might
  receive something in return from them on
White Day
...?"
・ Play any Lesson to collect Chocolate, which will drop when interacting with one of the Star Medal animals.
・ At the end of the lesson, the chocolates are given to you in the form of Choco Points (

), which can be used to decorate chocolate. 2 Choco Points are obtained per encounter normally and 6 while in Chocolate Fever. This number is doubled during normal Fever.
・ Each decoration uses a different amount of Choco Points. For 20 points spent you can give a "Handmade Chocolate", and for 150 points spent, a "Deluxe Chocolate". This is reflected on the "Chocolate Perfection Meter" shown below the chocolate, with OK and MAX.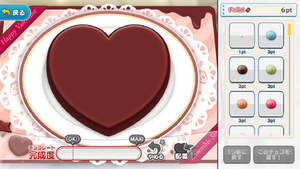 ・ Greeting Events have been changed to give you a Chocolate Fever when completing them, which increases the amount of Choco Points (3x) and Intimacy Points (2x) you receive for 10 minutes. When active, a bubble with a chocolate heart is seen.
・ Chocolate can be given to as many idols as you'd like.

1st Years
Character
Text
Cause
Tetora
やっぱり男のなかの男になる道のりは長いッスね。チョコの匂いがすると、どうしてもそわそわしちゃうッス~


There's still so much more to go until I become a man among men, huh... I can't help but get super fidgety from the smell of chocolates~

Intro
あ、ありがとうございます!姉御からもらったチョコを食べて、もっと強い男になるッスよ~!


T-Thank you! I'm gonna eat the chocolate you gave me, and become an even stronger man~!

Handmade
えへへ、女のひとからもらうと、やっぱり照れるッスね…… でも、ありがたく頂戴するッス!ありがとうございます、あんずの姉御!


Ehehe, getting a present from a lady really makes me blush... But I'll gladly take it! Thank you so much, Anzu-anego!

Deluxe
Hajime
この時期はあちこちから甘い匂いがしてきて、なんだかとっても幸せな気分になります♪




Intro
わわっ、ぼくにチョコですか? ありがとうございます、紅茶にも合いそうですね……♪




Handmade
これってもしかしてぼくたけに特別ですか……? えへへ、どうしましょう。幸せすぎて顔がにやけちゃいます~♪




Deluxe
Tomoya
この時期はみんなやっぱりそわそわしちゃうんですよね。お、俺は別にしてないですよ……?




Intro
わっ、俺にチョコですか? う、嬉しい……先輩からチョコを貰えただけで、今日の俺は幸せいっぱいです♪




Handmade
俺のためにつくってくれたんですか? か……顔が熱くなってきた。お願いですから、こっち見ないでくださいね……!




Deluxe
Hinata
この時期は町じゅう甘いもので溢れるから浮き浮きするねっ! 毎月バレンタインがあればいいのに☆




Intro
チョコレートをありがとうございます♪ はいっ、俺からもとびきり甘いお菓子をプレセント~☆


Thank you for the chocolate♪ Here, I give you some exceptionally sweet candy as a present~☆

Handmade
俺のために甘~いチョコレートにしてくれたんだね! これだけは愛しのゆうたくんにも渡さないで、独占しちゃうぞ~


You made some sweeet chocolate for me, right? I'm not giving any to my beloved Yuta-kun, I'm keeping it all to myself~

Deluxe
Midori
うっかりチョコをたくさん食べてこれ以上でかくなりたくない……。チョコじゃなくてゆるキャラを配る日とかにならないかな……


I don't wanna end up getting bigger from eating lots of chocolate... Can't this be a day where we give out mascot characters instead...?

Intro
うわぁあ、チョコにゆるキャラのデコレーションをしてくれたんですね……!食べずに飾っておきたい……♪


Uwaah, you decorated the chocolate with a mascot character...! I wanna keep this as an ornament instead of eating it...♪

Handmade
えぇっと、チョコをありがとうございます……。あんずさんからのチョコだと思うと、すこし特別な感じがしますね…♪


Umm, thank you for the chocolate... Now that I know this is from you, this chocolate feels a little special...♪

Deluxe
Tori
おまえなら当然、チョコを用意してるよね。特別に受け取ってあげるから、ちゃんと渡すこと☆




Intro
えっ、チョコレート? ボクにくれるの? ちゃんと用意しておるなんて、さすがはボクの奴隷だよね~☆




Handmade
えへへ、あんずからチョコもらえちゃった♪ お礼に、この愛らしいボクを抱きしめられる許可をやろう……♪




Deluxe
Shinobu
えぇっと、拙者は甘いものが食べたい気分なだけであるからして。全然バレンタインのことは意識してないでござるよ?


Errm, I am simply in the mood to eat something sweet, that is all. It is not like I was aware that it is Valentine's Day, really!

Intro
えっ、拙者のためにチョコを作ってきてくれたでござるか?もったいなくて食べられないでござるよ~!


Huh? You made chocolate just for me? This is too good to eat just like that~!

Handmade
せ、拙者、今ものすごくドキドキしているでござるよ~。これは、あんず殿からもらったチョコのせいでござろうか……?


M-my heart is beating super fast right now... Could this all be because you gave me chocolate, Anzu-dono...?

Deluxe
Mitsuru
オレもチョコを渡したいんだぜ。『Ra*bits』に、陸上部のみんなに……とにかくいっぱい必要なんだぜ!




Intro
ね~ちゃん、チョコありがとう! 嬉しくってみんなに自慢したいんだぜ! ダッシュ、ダッシュだぜ~☆




Handmade
オレも、あんずのね~ちゃんがだぁい好き☆ ありがとうなんだぜ!




Deluxe
Yuta
お菓子づくりの研究だ~とか言って、アニキがチョコを買ってくるんですけど……。ただ自分で食べたいだけじゃないですかね


"I'm researching making sweets~" Aniki said and went to buy chocolate... But doesn't he only want to eat some himself?

Intro
ありがとうございます! 不思議ですね、あんずさんのチョコレートなら食べられる気がします♪


Thank you! It's strange, but if it's Anzu-san's chocolate, I feel like I could eat it♪

Handmade
俺専用に甘すぎないチョコレートをつくってくれたんですね! うわぁ、これならいくらでも食べられそうです……♪




Deluxe
Tsukasa
甘いChocolateがこんなにたくさん! Valentineは私にとって夢のようなEventです……♪




Intro
Marvelous……! お姉さまからChocolateをいただけるなんてとても嬉しいです☆




Handmade
私のために用意してくださったなんて、身に余る光栄です。どのChocolateよりも甘くて美味しいに決まっています♪




Deluxe
Sora
あちこちでそわそわした『色』になったり、Happyな『色』になったりしてます。くるくる変わって面白いな~♪




Intro
HaHa~、嬉しいな~♪ チョコや笑顔で、幸せな『色』がいっぱい溢れています!




Handmade
チョコをありがとうございます! チョコが甘くてとろけて幸せな気分な~♪ まるで魔法をかけられたみたいです!




Deluxe
2nd Years
Character
Text
Cause
Subaru
バレンタインでみんなワクワクしてるねっ! 俺も思わずワクワクしちゃう♪ だから、チョコちょ~だいっ☆




Intro
やった、チョコだ~! 心がこもったプレゼントをありがとう☆




Handmade
ぎゅう~☆ 手づくりチョコありがとう! あはは、嬉しいからもう一回ハグしてもいい? 駄目って言われてもする~♪




Deluxe
Hokuto
遊木に衣更……明星までバレンタインを気にして落ち着かんな。まぁ、俺も少々落ち着かない気分なのだが




Intro
チョコをくれて感謝する。あんずの想いをちゃんと受け取るためにも、じっくり食べさせてもらおう




Handmade
俺のために特別につくってくれたのか? ありがとう……。思ってもみないプレゼントで、すごく嬉しい




Deluxe
Makoto
べ、別にそわそわなんてしてないよ。チョコのことなんて気にしてないからね~?




Intro
えぇっと……、このチョコってもしかして手づくり? もしそうだったらとっても嬉しいな~、なんて




Handmade
も、もしかしてこれって手づくりチョコ……!? うわぁあ、手が震えちゃってるよ~




Deluxe
Souma
店先に『ちょこれいと』の手作り『きっと』が並んでおったので、つい買ってつくってしまった。おひとつ、ご賞味あれ♪


I saw 'kits' for making handmade 'chocolate' lined up in a storefront, I somehow ended up buying one and made some. Please have one ♪

Intro
む? この『ちょこれいと』を我に? おお、これはかたじけない。だが、ありがたく頂戴しよう!


Hm? This 'chocolate' is for me? Ooh, I am most grateful. I will accept it gladly!

Handmade
我に『ちょこれいと』を……? おおっ、これはありがたい!しかも手づくりとは、これ以上ない誉れである……♪


'Chocolate' for me...? Ooh, it is appreciated! Furthermore, it is handmade, this is the highest honour...♪

Deluxe
Adonis
チョコレートには健康効果があるからたくさん食べるといい。俺も、甘いものは大好きだ




Intro
これはバレンタインのチョコレートだろうか? 特別だと、食べてしまうのがもったいないな……




Handmade
もしかして手づくりか? おまえの手づくりの温もりが伝わってくるようだ……。ありがとう、大切に食べよう




Deluxe
Natsume
バレンタインっテ、恋に悩む男の子たちにとっては落ち着かない一日かもネ。ボクどうかっテ? それは秘密サ……♪




Intro
バレンタインチョコをありがとウ。お返しニ、君が幸せになる甘い魔法をかけてあげよウ……♪




Handmade
子猫ちゃんから手づくりチョコをもらえるなんて光栄だなァ♪ 独り占めしたいかラ、ボク以外にあげたりしないでネ?




Deluxe
Koga
甘いもんが嫌いって言うと損するとかチャラ男に言われたけど……。バレンタインとか、べつに興味ね~よ




Intro
あ? バレンタインチョコ? ふんっ、レオンが食わね~ように気をつけねぇとな




Handmade
チョコ? 俺様のためにつくってきたのかよ? ……まぁ、どうしてもって言うなら受け取ってやんよ。ありがとな




Deluxe
Ritsu
ふふふ~。俺へのバレンタインはチョコじゃなくて、甘~い血がいいなぁ……♪




Intro
へぇ、チョコくれるんだ? 俺もつくってきたから渡しとく。今回はとくに見た目も自信作……♪




Handmade
ふぅん、手づくりねぇ……。あんずが俺のためにつくったチョコなら、血よりも甘くて美味しいんでしょ?




Deluxe
Mao
バレンタインは楽しみかって……それは、どう答えたらいいんだろうな? まぁ、ちょっとは期待してなくもないけど?




Intro
ありがとな! 実は俺も用意してるんだけど、受け取ってくれるか?




Handmade
おっ、これってもしかしてあんずの手づくりか? へへっ、ありがとな♪ お返し、楽しみにしててくれ




Deluxe
Yuzuru
チョコをありがとうございます。わたくしからもお返しをご用意しました。お口に会えば良いのですが……♪




Intro
チョコをありがとうございます。わたくしからもお返しをご用意しました。お口に会えば良いのですが……♪




Handmade
わたくしにもチョコをいただけるとは、たいへん光栄です。特別につくってくださったのでは、とつい考えてしまいます……♪




Deluxe
Arashi
大事なひとを想いながらつくった甘~いチョコレート♪ いちばんの隠し味は、やっぱり愛情ねっ




Intro
きゃぁん、かわいいチョコをもらっちゃったわァ~! ありがとう、とっても嬉しい♪




Handmade
ウフフ。そんな照れた顔でチョコを差しだすなんて……、ハートごと奪っちゃうわよォ? かわいいお姫さま♪




Deluxe
Mika
んふふ、チョコレートのええ匂いがするなぁ。今日くらいはお師さんから許可もらって、いっぱい食べたいわぁ♪




Intro
チョコめっちゃ嬉しいわぁ♪ あんずちゃんの手づくりやったらお師さんも許してくれるやろし、大切に食べるなぁ




Handmade
おれにもチョコくれるんやね。えへへ、何か照れくさいわぁ……。でも、おおきに♪




Deluxe
3rd Years
Character
Text
Cause
Eichi
お菓子業界の販売促進事業、と言ってしまうのは無粋かな。ともあれ、気持ちを伝えられる日というのは良いと思うよ




Intro
へぇ、君からチョコをもらえるなんて嬉しいな。ありがたくいただくね




Handmade
ふふ……さっきから心臓がドキドキして仕方がないんだけど、わかるかな? あんずちゃん、触って確かめてみる?




Deluxe
Keito
そうか、もうバレンタインの時期なんだな。……あんずも誰かにチョコレートを渡したりするのか?


I see, it's already Valentine's season. ...Are you giving chocolate to anyone?

Intro
疲れていてちょうど甘いものが欲しいと思っていたところだ。よかったらこっちに来て一緒に休憩しないか?


I'm tired and was just thinking of wanting something sweet. If you like, you could come over here and we could take a break together?

Handmade
あ、有り難う。まさかあんずから手づくりチョコを貰えるとは思ってなくてな、どういう反応をすればいいか困っている……


T-Thank you. I didn't expect to receive chocolate from Anzu. I don't know how I should react to it...

Deluxe
Kaoru
あはは、この時期はお祭りみたいだよね。もちろん、あんずちゃんのチョコはいつでもウェルカムだよ♪




Intro
ほんとにもらっていいの? あんずちゃんからバレンタインチョコをもらえるなんて、すっごく嬉しいな♪




Handmade
バレンタインチョコありがとう。これ、手づくりだよね。もしかして、俺にだけ特別なチョコをくれたって思っていいかな?




Deluxe
Izumi
はぁ? 俺にチョコの味見をしてくださいって? 俺の評価は甘くないからねぇ……♪


Huhhh? "Please sample my chocolate"? I won't go easy on you in my evaluation, you knooow... ♪

Intro
チョコをつくってきたとか暇なわけ? でもまぁ、これくらいなら、食べてもカロリーオーバーにはならないかなぁ


Do you even have the free time to be making chocolate like this? But, well, if it's just this much, I won't go over my calorie limit by eating it.

Handmade
へぇ、俺にチョコをつくってきたんだ? まぁ、もらってあげてもいいけど。今日は特別な日だしねぇ……♪


Oh, you made chocolate for me? Well, sure, I'll accept it. Only because today is a special day... ♪

Deluxe
Chiaki
チョコは栄養価も高くて、持ち運びもしやすいし非常食として完璧だ!まさにヒーローにふさわしい食べ物だなっ☆


Chocolates are high in nutrition, are easy to carry around, and are perfect as emergency rations! They're just the right type of food for heroes! ☆

Intro
おおっ!甘いものでパワー充電、元気百倍!これで無敵になれるに違いない!ふはははは……☆


Ohhh! My power's fully recharged from eating something sweet! I'm at max energy! Now I'll surely be invincible! Fuhahahaha!! ☆

Handmade
これは俗に言うバレンタインチョコだろうかっ!? チョコを貰えるってこんなに嬉しいものなんだな!あんず、ありがとうっ♪


Is this the so-called Valentine's Day chocolate!? It really is a wonderful feeling to get chocolate from someone...! Anzu, thank you! ♪

Deluxe
Shu
ノン! バレンタインなどという俗物的なイベントに踊らされるなんてごめんだよ。楽しみたいのなら勝てにしたまえ




Intro
その程度のチョコレートでよくひとに贈ろうと思ったね。まぁ、ギリギリ及第点ではあるけれど




Handmade
小娘まで手づくりチョコとは。……別に受け取らないとは言っていないのだよ、その気持ちを無碍にできないだろう




Deluxe
Madara
この時期は女の子も、男の子もそわそわするお祭りだなあ。そう言う俺も、チョコを期待していたりするんだぞお♪


This period of time is a festival of boys and girls being super restless, huh? And honestly, I'm hoping to get some chocolate myself~♪

Intro
報恩謝徳!ありがたく頂戴しよう!じつはママもチョコをつくってきたから、ぜひ受け取ってもらいたいなあ


How wonderfully kind of you! I'll gladly take it! Truth is, Mama made you chocolate too, so Mama would like you to have it!

Handmade
ふふ、嬉しいなあ♪ もしかして、これは『まま』じゃなくて『俺』のために作ってくれたと思っていいのかなあ?


Hehe, I'm so happy~♪ I hope it's alright for me to assume you made this for "me", and not "Mama".

Deluxe
Kuro
最近、この時期になると妹が落ち着かねぇんだが。まさかどこかの男にチョコを贈るつもりじゃねぇだろうな?




Intro
俺にもつくってくれたのか。ありがたくもらっとくよ。お礼にしてほしいことがあったら何でも言ってくれや


You made some for me, too? I'll take it gladly. As thanks, if you want something done, just tell me.

Handmade
チョコをありがとよ。嬢ちゃんからもらうと、すこし気恥ずかしい気がするのは何でだろうな……♪


Thanks for the chocolate. Receiving it from the Little Miss, why is it that I feel a little embarassed...♪

Deluxe
Wataru
愛を伝えあう素晴らしいイベントですね!私も皆さまに感謝と愛を伝えさせていただきます。


What a wonderful event to convey one's love! I will also be expressing my gratitude and love for everyone.

Intro
まさかその手に持っているのはチョコレートではありませんかっ?あぁ… 愛で満たされますねぇ!


Can it be that in your hands is a chocolate? Ah... It must be filled with love!

Handmade
あなたの真心がこもったチョコをいただけるとは何という喜び!愛に満ちあふれた今日ですから、遠慮なくいつもより多く薔薇を出しますよ☆


I am grateful to receive a chocolate filled with your sincerity! Since today is overflowing with love, I won't hesitate to give out even more roses than usual☆

Deluxe
Kanata
ふふふ~♪ この『じき』はあちこちが『そわそわ』していますね?ぼくも『そわそわ』しているかもしれません~


Hehehe~♪ This is the time when everyone is feeling restless everywhere~ I might also be feeling restless~

Intro
ありがとうございます。『ちょこ』はえいようがいっぱいですね?『おさかなさん』といっしょです~


Thank you very much. Chocolate has a lot of nutrition, yes? It is just like the fishies~

Handmade
『ちょこ』をありがとうございます。あんずさんの『まごころ』がこもっていて、とってもおいしそうですね♪


Thank you for the chocolate. It looks delicious, since I am sure it is filled with your sincerity~♪

Deluxe
Rei
どうも、男どもがそわそわしておるのう。くくく、誰が嬢ちゃんのチョコを手にするか楽しみじゃ♪




Intro
おぉ、我輩にもチョコをくれるのかや? これは感激じゃ。嬢ちゃん、感謝するぞ……♪


Ooh, you are giving me chocolate, too? I'm deeply moved. Thank you, Little Miss...♪

Handmade
我輩のためにチョコをありがとう。お返しにチョコのような甘美なる時間を与えてやろうかのう。……くくく、冗談じゃよ♪


Thanks for the chocolate you made for my sake. In return, should I give you a time as sweet as chocolate? ...Kukuku, I'm joking ♪

Deluxe
Nazuna
あっちもこっちもバレンタインー色だな。甘い物の食べすぎは禁物だけど、ちょっとくらいなら……♪




Intro
うにゅっ!? おれにちょこを!? びっくりしてつい噛んじゃったりょ~




Handmade
えへへっ、ありがとな♪ 手づくりチョコでも、あんずのチョコだから嬉しいんだからなっ! お返しは期待してろよ~!




Deluxe
Leo
くんくん……。何か甘い匂いがするな? あぁ待って、答えを言わないで! 妄想するから……!




Intro
ありがとう! 糖分は脳の栄養になるからなっ! ますます霊感(インスピレーション)が湧きそうだ♪




Handmade
ありがとう、大好きだ~☆ おれの隣に座れよ。お返しに曲を書いてやろう! わはは、『チョコレートありがとうの歌』~☆




Deluxe
Tsumugi
近ごろ皆さん、どことなくそわそわしてますね~。青春を謳歌していて、とっても微笑ましいです




Intro
ふふ、チョコには人が幸せを感じる効果があると言われていますが、早速幸せな気分になっちゃいました♪




Handmade
うわぁ、俺のために手づくりしてくれたんですね。こんなに素敵なバレンタインになるなんて、今日は最高の一日です♪




Deluxe
Others
Character
Text
Cause
Jin
あっちもこっちもわかりやすくそわそわしてんな~。まぁ、この時期は仕方ないか。いや~、青春だね~♪




Intro
おっと、俺にもチョコくれるのか? 相変わらずあんずは優しいな~。ありがとさん


Oh, you are giving me chocolate, too? Anzu is kind as usual~ Thanks.

Handmade
はは、嬉しくて思わずあんずを抱きしめたくなるな~。……なんて、冗談だよ。たぶんな♪




Deluxe
Akiomi
バレンタインの時期は生徒たちが浮き足立って仕方ないですね。まぁ、ある程度は目を瞑りましょうか




Intro
あんずさんのことですから、気を遣ったのでは? まぁせっかくですし、いただきましょう




Handmade
私のためにチョコをつくるより他にすべきことがあるでしょう? ……でも嬉しいと思う私がいるんですから、困りましたね




Deluxe
Seiya
ほっちゃんが最近何やら落ち着かない様子なんですよね。『プロデューサー』なら心当たりがあるんじゃないですか?




Intro
ありがとうございます♪ 本命チョコは一個だけと決めていますが……。アイドル、氷鷹誠矢としては何個でもいただきますよ




Handmade
おや、僕にもくれるんですか? 嬉しいですね♪ ふふ、ほっちゃんとチョコの数でも競ってみましょうか




Deluxe
Hiyori
ぼくにチョコを渡すなら、ぼくに相応しいものにするべきだね。だけど、ただ高いだけじゃぼくは満足できないからね




Intro
ぼくにチョコを渡すとは上出来だね! その努力を認めてもらってあげるね!




Handmade
うんうん、ぼくの好みをしっかり理解しているね。とっても美味しそうだし、貴族のぼくにふさわしいチョコレートだね☆




Deluxe
Jun
何か、アイドルになってからバレンタインを気にするようになりましたねぇ。あんずさんはどんな感じです?




Intro
他校のオレにまでチョコを用意してくれたんすか? こういうのって慣れねぇっすけど、ありがとうございます……♪




Handmade
まさかオレにですか? はは、そんなキャラじゃないはずなのに、何かすげぇ感動しちまってます♪




Deluxe
Nagisa
……えぇっと、チョコをもらったときはどうすればいいんだっけ。茨の台本を確認しなきゃ




Intro
『フハハハハ! よろしい、この思考の王者、乱凪砂にチョコを渡す栄誉をくれてやろう!』




Handmade
……これもひとつの愛の伝え方、と言うことなんだろうね。君の手づくりをもらえてとても嬉しいよ。ありがとう




Deluxe
Ibara
製菓企業の見事な戦略! ここまでの一大イベントに成長させた手腕には感服いたします!




Intro
まさかチョコをいただけるとは、女神のようなあなたに感激いたしました! ありがとうございます!




Handmade
自分などにチョコを贈ってくださるとは、感動の涙で前が見えません! ぜひ来月は三倍返しをご期待ください!




Deluxe
Campaign Navigation
Campaign
Years
Birthdays
2016, 2017, 2018, 2019, 2020
Anniversary
New Years
Valentine's Day
White Day
April Fools
Summer Vacation
Halloween
Christmas